A common misconception of cycling is that it is reserved for fitness fanatics who are often times already fit or thin. Cycling is actually widely done by persons of all different fitness level, shapes or sizes. A common concern echoed from several cyclists is the ability of certain hybrid bikes to handle the wright of several heavier cyclists. Therefore, we have reviewed two of the best hybrid bikes for heavy people.


What should heavier persons look for in a bike?
Check the Wheels
Heavier or overweight cyclists should look for certain characteristics when they are shopping around for a hybrid bike. It is always advisable to select a hybrid back that offers 700c tyres and flat handlebars. It is also important to ensure that the back wheel is able to bear the weight of the potential rider. Take the bike for a test ride, it should be evident from a test ride if the back wheels will need to be changed to accommodate the riders weight.
Frame is not the culprit!
It is a common misconception too is that the frame of the bike should be critiqued, in reality the frames are not the issue. Frames are general sturdy regardless of the the weight being applied – that is just how frames are built. The most sturdy material used to manufacture frames are steel, therefore, overweight persons can opt to search for bikes with steels frames. However one must remember all frames are sturdy and the back wheels are actually a tad bit more important.
A lot of bike manufacturers do not disclose weight limit for their bikes but for the few that specifies, the common claim is that the frame is made from steel with flat handlebars and 700c wheels. Wheels appear to be the most important – as some wheels if not sturdy enough will result in spokes flying and the bike eventually crumbling.
What are the Best Hybrid Bikes for Heavy People?
This bike allows cyclists to select specific sizes to fit their body type, it is listed in small , medium, large and extra large.
Features of this bike include:
700C road wheels that can handle the weight of heavier persons
Added cushioning using suspension fork and seat post

6061-T6 aluminum frame with sport hybrid geometry for more upright pedaling position is built to last

Shimano 7-speed drivetrain gives wide range of gears for any terrain
Adjustable handlebars and adjustable pedals
Pedals are sturdy and can handle the weight to heavier persons.
Cons
A great deal of assembly and adjusting is required to acquire a perfect.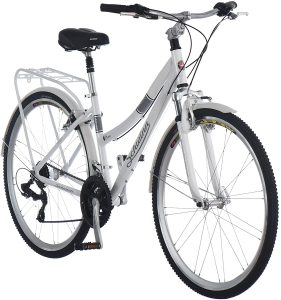 This bike is the dream bike for heavier persons. Built to last, overweight persons will not feel uncomfortable or afraid to take a ride.
Features of this bike include:
Steel frame
700c wheels
adjustable pedals
Alloy rims that are light and strong
Rear rack is perfect for commuting; Fenders keep water and debris off the rider

Alloy front and rear linear pull brakes allow for precise stops

7 speed Shimano rear derailleur for quick gear changes; SRAM grip shifter

Retro style, steel frame and fork; Comfortable padded seat
Cons
This bike is really heavy.
---
Final thoughts

The bet hybrid bikes for heavy people are easy to find. Often times they can actually ride the regular hybrid bikes, however there are some heavier persons that would much rather have the added protection and safety of a bike made specifically for them. The best of the three above would be the Schwinn Admiral Hybrid Bike – that is the bike that I would select.
Related Links:
https://en.wikipedia.org/wiki/Hybrid_bicycle /By Wikipedia
https://en.wikipedia.org/wiki/Fatbike /By Wikipedia
https://en.wikipedia.org/wiki/Cargo_bike /By Wikipedia
https://en.wikipedia.org/wiki/Fitness_bicycle /By Wikipedia
https://www.wikihow.com/Choose-a-Bicycle /By Wikihow
https://www.wikihow.com/Buy-a-Bicycle /By Wikihow
https://www.wikihow.com/Bike-for-Weight-Loss /By Wikihow